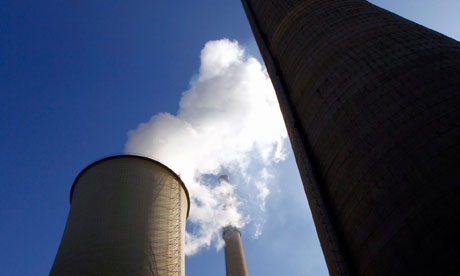 The CBI endorses government move to make carbon reporting mandatory, but the scheme should be less cumbersome. Photograph: David Gray/REUTERS
Making carbon reporting mandatory offers businesses a great opportunity to save energy and money. To save anything you need to measure the usage first. At CBI, we call this 'measure to manage' – you can only change what you can see.
The government has to decide on making carbon reporting mandatory by April 2012, in accordance with the Climate Change Act of 2008. The CBI is in favour of mandatory reporting and has called on the government to implement the act.
Carbon reporting will make it easy for any firm to see the energy they are using and understand how to take action to reduce it.
Of course, many businesses haven't been waiting for the government's permission to do this. Nine in 10 FTSE 100 companies currently take part in the Carbon Disclosure Project making their emissions public. But when you count all FTSE companies, the figures drop to 22%. The government needs to make sure they don't interfere with those already voluntarily reporting and provide a simple and accessible scheme for those who aren't.
In May 2009 the CBI published a report looking at a common business approach on GHG reporting. The report showed that the best way was to ensure business sees carbon reporting as an opportunity, not another regulatory burden. This is an opportunity for the government to simplify existing regulation and do away with cumbersome approaches, such as the CRC performance league table. (more…)
---